TerrenceTech

Tech Support Team: "Keeping Customers Satisfied"
Affordable prices. Practical solutions.

DON'T GET PHISHED! --if you're a business owner.
This article is taken from a tweet by Kaspersky
Facebook is offering $100 million in cash grants to businesses affected by the coronavirus pandemic. Eligible applicants can receive a grant worth about $3,300, announced the company's official blog, and, picked up by major media outlets, the news quickly spread. 
Unsurprisingly, cybercriminals wasted no time hatching schemes to exploit this largesse.
Knowing many had heard about the grants but banking on few having absorbed the details, cybercriminals presented the news as if Facebook was handing out money to all users of the social network affected by COVID-19.
Click the image below for the full story!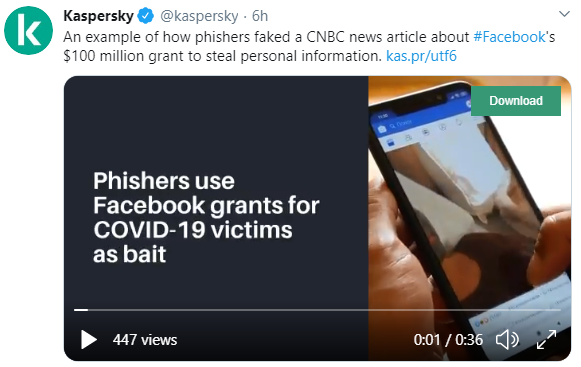 Most of us may think our small or enterprise work environment is safe enough to browse the web, conduct online transactions and the antivirus/internet security software on our system is enough to get us by. However, this cannot be further from the truth.
Check out this video presentation on some security concepts as explained by Luke LeBoeuf, Senior Principal with HP.
Whether your a Junior Admin at a small or medium sized company, or Senior Analyst for a big corporation the above link to the video will prove to be helpful.  
And take some notes, this info can help save you a lot of headaches in the future.
/